Building Leaders for Our Community
Leadership Carbon is an adult leadership development program, headquartered at the CCEDC office in partnership with Lehigh Carbon Community College, designed to cultivate knowledgeable, skilled, committed and action-oriented community leaders for the benefit of Carbon County's future.
This valuable training program brings participants from diverse backgrounds and varying perspectives together once a month from September through May to learn more about themselves and their communities. Leadership Carbon sessions will provide the opportunity for you to share ideas and experiences with other students, gain new skills and knowledge about leadership and develop plans and strategies for implementing community betterment projects. You will also develop a deeper understanding of the challenges, opportunities and resources existing within Carbon County and will be prepared and encouraged to serve on various non-profit boards.
REGISTRATION FOR THE LEADERSHIP CARBON CLASS OF 2024 IS NOW CLOSED.
Class sessions begin on Wednesday, September 13, 2023. This first session will run from 8;30am-4:30pm. CLICK HERE TO LEARN MORE!
All other classes will be held every 2nd Wednesday of the month from 8:30am- Noon at the CCEDC office at 137 South Street, Lehighton (unless otherwise noted). (There will be some exceptions for full-day sessions for field trips.)
If you are interested in participating in the Leadership Carbon Class of 2025, please contact Linda Rex at 610-379-5000 for more information.
If you have course-specific or registration questions, please contact Linda Rex at 610-379-5000.
For more information on continuing education credit through LCCC and scholarships, please contact Maureen Donovan (570) 225-7021, email: mdonovan@lccc.edu.
What Our Alumni Are Saying...
What a great way to get to know the movers and shakers of Carbon County and learn leadership skills! Simply put, the Leadership Carbon program made me a more valuable employee and a better team member."
 - Micah Gursky, Director of Development, St. Luke's Miners Memorial Hospital
"Leadership Carbon gave me the opportunity to make a real change through our class project. Youth Leadership Carbon is now in its second year of introducing high school students to the best of what Carbon County has to offer."
-Carleen Ladden, Human Resources Representative
"Yes, the program allowed me to gain knowledge about my community and the county as a whole. The experience also gave me the opportunity to meet and network with individuals in a variety of careers. I truly value the relationships developed through the program and I continue to rely on those individuals and the resources they can provide." 
-Cynthia Zimmerman, AEC Site Supervisor, CCTI Adult Education Center
"I participated in Leadership Carbon as both a student in the inaugural class and as an instructor. It's an excellent way to experience the benefits of teamwork first-hand."
 -Ric Reaman, Chief Financial Officer, KME Kovatch
CONTACT US FOR MORE INFORMATION |
PROGRAM COORDINATOR:
Linda Rex, CCEDC
610-379-5000 | Contact Linda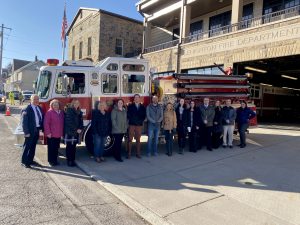 Leadership Carbon is a Committee of the Carbon Chamber & Economic Development Corporation in partnership with the Center for Leadership & Workforce Development, Lehigh Carbon Community College.

Corporate Sponsors & Partners