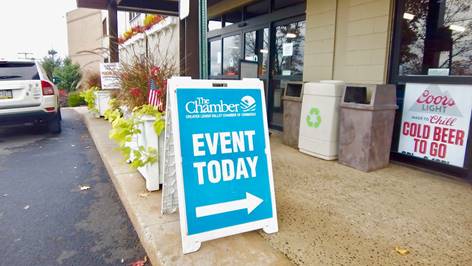 Committees are the life force of the Carbon Chamber & Economic Development Corp. and where the benefits of membership truly pay off. The more you become involved, the greater impact you will see in your business! If you have ideas about a committee you don't see, please contact Alice Wanamaker to discuss starting one! Committee chair terms are two years. Chairs are expected to conduct meetings on a regular basis and work closely with the Executive Director, Assistant Vice President, and CCEDC staff to conduct meetings and coordinate projects. CCEDC staff provides support to Committees via meeting room scheduling, meeting scheduling, and the taking of minutes.
The strength of our Chamber comes from the hard work, time and dedication of our Committee members. Learn more about our Committees below, and if you would like to participate in one or more of these Committees, please contact its chair. (To be eligible to participate, you must be a member of our Chamber.)
Business/Education Partnership:
Chair: Steve Ohl, R.F. Ohl
The Business/Education Partnership was established in August 2009 to promote collaboration between business and education to strengthen workforce quality, develop career opportunities, and foster a culture of lifelong learning in the Carbon County region. The goals of CCB/EP are to collaborate with school districts to raise student achievement levels by aligning education with career preparation; to identify key business needs and incorporate academic curriculum, models, or programs; and to educate businesses on the benefits of such partnership
Ambassadors & Events Committee
Committee: Marj Federanich, CruiseOne Palmerton, Dave Figenshu, Dave Figenshu Digital Media, Sheila Knappenberger, Buckno Lisicky, Robyn Plesniarski, Lehigh Valley Health Network, Susan Cooper, ServPro Carbon County/Pocono Pines, Kathy Ruff, Total Business Services,
 Staff: Alice Wanamaker   Contact Alice
WELCOME TO THE CCEDC! HOW CAN I HELP YOU?
THIS GREETING SUMS UP THE ROLE OF AN AMBASSADOR. 
The Ambassador Council serves as the goodwill arm of the Chamber, playing an essential role in member Communication, Appreciation, Retention, and level of Engagement.  ​Ambassadors are highly visible, prestigious volunteers who serve as the Chamber's primary liaison to new Chamber members. Ambassadors C.A.R.E.
We serve members by: 
Helping you understand and take advantage of Chamber benefits. If you have a question, ask us. If we don't know the answer, we can direct you to the staff person who does.

Encouraging you to actively participate in Chamber activities. Whether you are a new member or a veteran, we want you to feel welcome at Chamber activities. You'll find us at mixers and grand openings, Council meetings and other special events, ready to introduce you to other members.

Assisting Chamber staff in retaining members. Our Chamber is only as strong as its membership. That's why we work hard to keep members involved.  
The Ambassadors Council is happy to welcome new Ambassadors.
This committee is responsible for planning and implementing the three largest events that the Chamber undertakes; the Annual Dinner Event, the Golf Outing, and the Administrative Professionals celebration. Each event has sub-committees that focus on successful outcomes for the community outreach of the Chamber. Committee members also assist with sponsorships for events. This committee is also focused on the development of networking events. Members brainstorm ways to create unique networking events with the goal of three per month (breakfast, lunch and after hours). Events are used to highlight and promote Chamber members' business establishments and promote and support member to member commerce. Members also attend events as "Ambassadors" of the Chamber, assisting members in making connections and networking with one another. 
Future Leaders of Carbon County Council (Formerly Carbon Young Professionals):
Chair: Jared McEvoy, Equinox
Contact Jared
The Future Leadership of Carbon County (FLOCC) is a group of young business owners, entrepreneurs and serious, active, civic-minded professionals within the CCEDC, who have a deep appreciation of the county's leadership legacy and a clear vision of the area's future as a great place to live, play and do business. FLOCC members seek to create intergenerational connections; to understand the values, characteristics and experiences of the CCEDC's veteran professionals, while sharing their own unique perspective and skills, in order to create their own vision and empower the county's business community, promote economic success, and build their businesses or advance their careers. This intergenerational connection creates a bridge to the new knowledge- driven economy and aligns their web of relationships. 

Health & Wellness Committee:
Chair: Alice Wanamaker, CCEDC
New! This committee is in it's infancy, developing a roadmap to improve the overall health of the residents and visitors in Carbon County. 

Leadership Carbon:
Chair: Linda Rex, CCEDC- 610-379-5000

 It has been said that leadership is a prime force that makes positive things happen in a community. The Leadership Carbon Program is designed to develop knowledgeable, skilled, committed, and action-oriented community leaders. Leadership Carbon brings together participants once a month September through May. Participants typically come from diverse backgrounds and varying perspectives to learn more about themselves and their communities. In the Leadership Carbon Program, people share their ideas and experiences with each other, gain new skills and knowledge about leadership, and develop plans and strategies for implementing community betterment projects. 
Lehighton Downtown Partnership
Staff: Bambi Elsasser
NEW - More to come Fall 2021
Marketing – Tourism & Accommodations Committee:
Staff: Alice Wanamaker, CCEDC
This committee provides leadership and strategic direction to initiatives and projects that will have an impact at the County level. This group interfaces with County level agencies, multi-county regional partners, and State level legislative resources, associations and groups. This committee plans and implements Carbon County Restaurant Week/Month in conjunction with the Pocono Mountains Visitors Bureau. This committee also provides a forum to discuss opportunities and design initiatives that will fill small lodgings in Carbon County. It offers access to group advertising opportunities that would otherwise be unaffordable to lodgings with only a few rooms. 

Veterans & Military Affairs Council
Staff: Alison Pickel, GLVCC
Veterans and Military Council's Mission:
To support veterans and military members in business as they serve our nation and our communities.
Objectives:
To help veterans and those who serve develop and grow professionally
Create networking and network building opportunities for veterans and military. personnel who either own their own businesses or are key influencers in the businesses at which they work.
Promote the leadership attributes of veterans and military service personnel and the skill sets they bring to the Lehigh Valley business community. (learn more here)
Contact Alison Pickel at 610-739-1512 or alisonp@lehighvalleychamber.org.

Women in Business:
Committee: Sarah Binder, Carbon County Art League, Dave Figenshu, Dave Figenshu Digital Media, Jaclyn Gallagher, Buckno Lisicky, Diane Motel, Wildlands Conservancy, Pam Reilly, Mary Kay Cosmetics, Kathy Ruff, Total Business Services, Danielle Andreas – Andreas Plumbing, Heating & AC, Sharon Alexander – Carbon County Community Foundation, Julianna Skrimcovsky, Agency345, Jennifer Rowden – Times News Media Group
 Staff: Alice Wanamaker   Contact Alice
This committee conducts monthly lunch meetings that provide a venue for the business women of Carbon County to come together for support and networking. All are welcome, including men!  Attendees are also encouraged to participate in the Carbon County Women in Business Facebook Group (https://www.facebook.com/groups/carboncountywomeninbusiness) to obtain further learning, resources and support. If you are interested in becoming a presenter, please fill out this Speaker Interest form and return it to any committee or staff member.
Carbon County Women in Business "In Style For Your Success" Workwear Program
The Women in Business Committee of the Carbon Chamber & Economic Development Corp. (CCEDC) has established the In Style for Success Workwear Program of Carbon County.
This initiative is administrated by the Women in Business Committee in conjunction with other area organizations including Trinity Lutheran Church in Lehighton, Wear It Again in Jim Thorpe and our sponsors - Lehighton Kia, Andreas Plumbing Heating & Air Conditioning and The Times News.
The CCEDC Women in Business In Style for Success is now able to provide business attire to professionals in the area. The program will begin providing women (and men) in need with professional attire for job interviews and specific clothing necessary for employment or training in the near future. Accessories, shoes, ties and additional services may be available as well. The goal is to help empower these individuals to enter the workforce in style with confidence!
Applications are available for download below, at the CCEDC office, and at area churches including the Trinity Lutheran Church Thrift Store in Lehighton.
A portion of the proceeds from the Carbon County Women in Business 2021 Luncheons and other events are benefiting TURN TO US. Please contact Alice Wanamaker at alicew@carboncountychamber.org or 484-274-2080 for more information.
Social Media/Marketing Committee:  We are in need of bright, energetic, creative individuals!   This committee requires a time commitment of about 2 hrs. per month.  We communicate information and issues through many avenues, including facebook.  We send out press releases to announce the monthly luncheons and other events.  We also help to promote all of the major WIB events.  The development subcommittee focuses on getting the word out there about all the WBC has to offer with its initiatives and events and connecting sponsoring businesses with the group.  If you have a knack for creative marketing, this is the committee for you!
Subcommittees:
Engagement Committee:  Welcoming committee for the WIB.  Greets and orients new attendees at the luncheons; brainstorms ways to better serve the membership and implements the new methods.  This committee contacts new members of the CCEDC to inform them of the WIB.  They also select nonprofit partners for charitable donations at the WIB events and represents the WIB to all other groups.
Development Committee:  This committee is responsible for developing and executing a development plan for the WIB.  Main focus is sponsorship for monthly and special events.
In Style for Your Success Committee:  This committee works on developing a 12-month mentoring program for women in business.  Committee members will identify and secure mentors and also develop and implement a marketing strategy and curriculum for the program.
Program Committee:  Participate in this fun committee in which you are able to choose and develop the programs for monthly luncheons.  Programs meet more often in the late summer/early fall to decide most of the year, and then only as needed. Usual time commitment is 2 hrs/month.  Your attendance at luncheons is requested where you should be available to help make sure the program/luncheon proceeds smoothly.