Find Your Fun in Carbon County, PA
Things to Do & See Directory
Due to COVID-19 restrictions and social-distancing, please be sure to call or visit your destination's website for open hours and any other special COVID-19 safety requirements.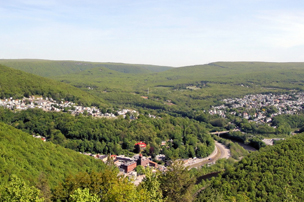 About Carbon County, Pennsylvania
Carbon County is located in northeastern Pennsylvania, approximately 90 miles west of New York City and 90 miles northeast of Philadelphia. The County is bordered on the north by Luzerne County, on the east by Monroe County, on the west by Schuylkill County and on the south by Lehigh and Northampton Counties. The northern and eastern portions of the County are part of the Pocono Mountains region of the Commonwealth.
Often referred to as "Lehigh Valley's playground," Carbon County is an ideal place to play but to also live and work. Find out why here.
Accommodations in Jim Thorpe & Surrounding Areas of Carbon County
Over 500 Places to Stay!
Whether you stay one night, a weekend or longer, you'll have endless choices of accommodations to perfectly suit your needs, tastes and lifestyle.
Choose from Inns, Bed & Breakfasts, Hotels & Motels, Resorts, Guest Houses and Camping.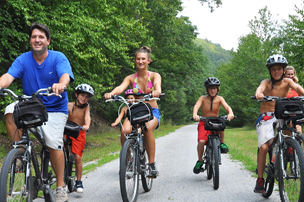 Biking in Carbon County
Breathe in the fresh air, take in the scenery and do something great for your body and well-being...BIKE in Carbon County, PA! Whether you choose a road bike, mountain bike or motor bike or 4-wheeler, Carbon County has plenty of paved and unpaved trails to explore.
Carbon County, Pennsylvania State Parks
Carbon County, Pennsylvania State Parks offer residents and visitors plenty of opportunities not only for fun adventure and relaxation but also for a personal experience with nature. Every state park offers you unique scenery and terrain, various wildlife viewing and a lot of different things to explore.
Visit our state parks at Hickory Run, Beltzville and Lehigh Gorge for hiking, biking, rafting, boating, camping, swimming and more!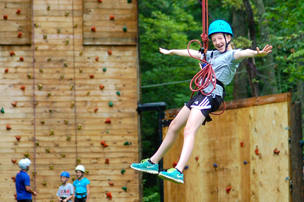 Outdoor Climbing Walls & Courses
Whether your objective is fun or team building, outdoor climbing walls and obstacle courses are a great way to challenge yourself and work together.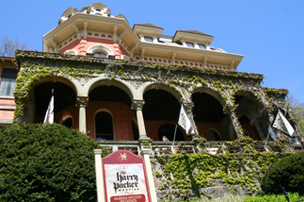 Cultural & Historical Activities in Carbon County
Carbon County, Pennsylvania is a county full of culture and history. Every town will offer you something different and exciting to learn and explore. Museums, galleries, historical attractions, special programs...we have it all!
D&L Trail & Area Information
The D&L Trail in eastern Pennsylvania connects people to nature, culture, communities, recreation & our industrial heritage. Find everything that you would want to know about the Delaware & Lehigh Trail here.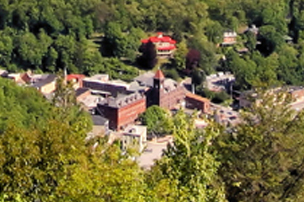 Discover Downtown Jim Thorpe, PA
The county seat of Carbon County, Pennsylvania, formerly known as Mauch Chunk and named after an olympian athlete, Jim Thorpe is a popular and well-known destination for our visitors. Here, you'll find quaint shoppes, history, culture and adventure as well as exciting community events, train rides and more!
There is plenty of fun and history in store for you in Jim Thorpe, PA!
Discover Lansford, PA
When visiting Lansford, you'll experience rich history, a small town feel of homes and businesses as well as exciting community events all year long! While there, be sure to take a tour at the No. 9 Coal Mine & Museum.
There is plenty of history and fun in store for you in Lansford, PA!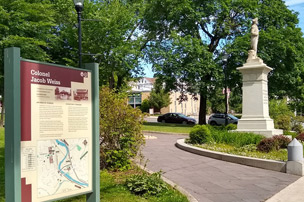 Discover Lehighton, PA
When visiting Lehighton, be sure to check out its many stores, bars and restaurants and weekend Farmer's Market. Take a stroll in the beautiful Colonel Jacob Weiss Park in the downtown Lehighton or spend the day on the D&L Trail, Lehigh River or at Beltzville State Park.
There is plenty of history and fun in store for you in Lehighton, PA!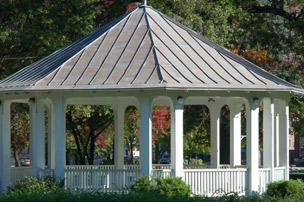 Discover Palmerton, PA
When you visit Palmerton, make sure that you visit the bandstand at Palmerton Borough Park and check out the many stores, restaurants and bars on its Delaware Avenue. Palmerton is also home to Blue Mountain Resort, a great place for its breathtaking views of Carbon County as well as skiing, tubing, ziplining, rock wall climbing, glamping, weddings and special community events, like Carbon County Oktoberfest and Spartan.
There is plenty of fun in store for you in Palmerton, PA!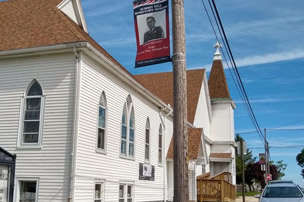 Discover Summit Hill, PA
Summit Hill is a lovely town of neighborhoods and home to Summit Hill Heritage Center and the Mansion House Restaurant.
There is plenty of history in store for you in Summit Hill, PA!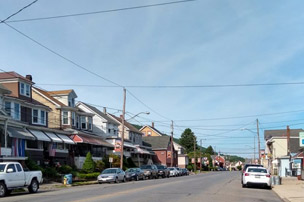 Discover Nesquehoning, PA
Nesquehoning is a charming town of homes and businesses as well as other industrial businesses.
There is plenty of fun and history in store for you in Nesquehoning, PA!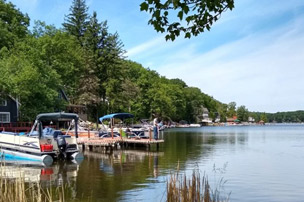 Discover Penn Kidder/Lake Harmony, PA
When you visit the Penn-Kidder area, take in its natural beauty with its many lakes and forests. Shop, dine and relax in Lake Harmony as well as enjoy a boat ride on Lake Harmony itself. While in Lake Harmony, continue to its neighboring Split Rock Resort where you can stay and play with its many of exciting amenities to find your fun. You'll then want to hike, bike or swim and embrace the beautiful scenery of Hickory Run State Park. Like adventure? Be sure to visit Pocono Whitewater and Skirmish. Need something for the kids to do? Bear Mountain Butterfly Sanctuary is a beloved place to go to learn about butterflies and more!
There is plenty of fun in store for you in the Penn-Kidder area of PA!
Entertainment Venues in Carbon County
Famous musicians, talented comedians and Broadway-quality shows don't have to be found only in large cities. In fact, they all can be found right here in Carbon County, Pennsylvania at venues like Penn's Peak and Mauch Chunk Opera House.
Fishing and Wildlife in Carbon County
When you think of Carbon County, Pennsylvania and the Pocono Mountains, you probably think of nature and wildlife, right? Right!!! Carbon County's diverse terrain is the perfect place for all species of our resident wildlife to call home! If you are an outdoor sports man or woman, get educated here on places to hunt and fish, licensing and rules and regulations.
Golf the Links in Carbon County, PA
FORE! The best place to relax or do business is on the golf course, and Carbon County, PA is home to highly-rated Jack Frost National and other fantastic local golf courses and country clubs, such as Split Rock and Woodstone that boast some breathtaking mountain scenery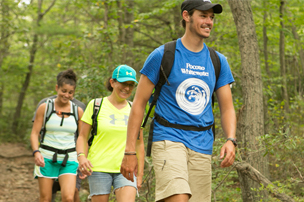 Hiking Trails in Carbon County
From hardcore outdoor enthusiasts to those who just want some fresh air and exercise, Carbon County is full of paved and unpaved trails for hiking during nice weather. Challenge yourself on varied terrain or just enjoy a leisurely stroll to take in our beautiful mountain scenery.
CLICK HERE to Read Notice About Glen Onoko Falls Trail Closure
CLICK HERE for Glen Onoko Map Showing Closure Location.
Indoor Waterparks in Carbon County
Summer fun is not only reserved for summer months here in Carbon County. You and your family can get a taste of summer all year long at our indoor waterpark at Split Rock Resort.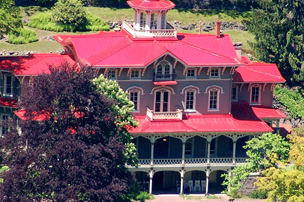 Museums & Galleries in Carbon County
Appreciate artistic expression and step back in time to explore our rich history at our various museums and galleries throughout Carbon County.
Paintball Skirmishes
Enjoy the great outdoors, test your skills and have fun with friends with paintball skirmishes.
Resorts in Carbon County
Carbon County is home to beautiful resorts for you and your family to stay and play. Each resort offers a variety of amenities, fun activities, comfortable accommodations and more!
Restaurant Dining & Nightlife
Hungry? In Carbon County, you'll find diverse tastes and dining ambiance for even the most discerning palates. Whether you want a quick sandwich or gourmet lunch, a family-friendly grille or a romantic dinner for two, homemade baked goods or pizza and wings, you'll get it here.
Need to Unwind? In Carbon County, you'll be met with an abundance of pubs, restaurants and cafes to enjoy drinks, music, good company and great times!
Shop Local in Carbon County
Need a little "Retail Therapy?" Take a stroll and explore our charming shops and various small businesses with fabulously unique finds in downtown Jim Thorpe, Lake Harmony, Palmerton and surrounding areas of Carbon County.
Whitewater Rafting- Opens April 1st
When the weather breaks, our rivers are ready for you to ride. Whitewater rafting is an exciting adventure that you can enjoy with friends and family while enjoying the great outdoors!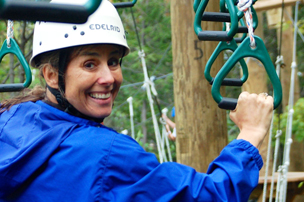 Ziplining
Who says that only birds, planes and helicopters can fly among the trees? You can, too, when you go ziplining at one of our terrific Carbon County ziplining locations. It's a great way to take in our beautiful Carbon County scenery from above!
Corporate Sponsors & Partners