Last update 4/2/20  2:15 PM
This page is a resource for our Carbon County, PA residents, businesses and travel and tourism partners and visitors on factual information about Coronavirus Disease 2019 (COVID-19). We will continue to make regular updates to this page as necessary. Please feel free to share this resource with anyone whom you know who can benefit.
Carbon County
Personal Protective Equipment Resources (PPE)
Carbon County Emergency Management Agency - Carbon Emergency Management Agency is accepting PPE items to distribute to the Emergency Services of Carbon County: Police Departments, Fire Departments, Ambulance, Hospitals & Nursing Homes
If you have items to donate, please contact the NON-EMERGENCY line at:
570-325-3097
1264 Emergency Lane, Nesquehoning, PA 18240
PA Governor & Government:
Pocono Mountains Visitors Bureau
Pocono Mountains United Way:
PA 211: Get Connected. Get Help.
We encourage members of our community to call 211 or visit www.pa211east.org if they need help with food, housing, utilities or other necessities. Pennsylvania 211 East is a free, confidential, non-emergency, 24-hour information and referral service that connects Lehigh, Northampton and Carbon, county residents with the health and human services they need.
Additionally, we've set up www.unitedwayglv.org/COVID-19 to quickly share the latest updates on 211, food services, etc. There is also a link on the right "For Nonprofits" where we're just beginning to share the latest information.
Association of Chamber of Commerce Executives:
CDC & U.S. Travel:
The U.S. Travel Association and the Centers for Disease Control & Prevention (CDC) held back-to-back calls Wednesday, March 4 to keep everyone aware of what's happening globally and here at home with COVID-19. Here is a link to the summary from those calls.
There will be updated guidance on the U.S. Travel website here: U.S. Travel toolkit
The CDC also provides updated guidance here: CDC Coronavirus response
From the CCEDC
A Message from Marlyn Kissner, Executive Director, CCEDC
Dear Member and Partner,
As we navigate through the uncertainties of the situation at hand, please know that we are here to support the business community and will continue to do so with best practices, programs and important information as it comes available to us.
At this time, we have postponed and rescheduled a majority of our March and April CCEDC events. For workshops and meetings that could be moved online to a webinar format, we have done so and have indicated this on the event listing on our calendar.
We will continue to keep you informed of further event or news updates here on our website, via email and also on our Facebook page at www.facebook.com/carboncountycced/ .
Please click here to download the Small Business Owners Guide to the CARES Act.
We are strong, we are resilient and will make it through this together. Please feel free to contact us any time, we are here for you!
Regards,
Marlyn
Marlyn Kissner, Executive Vice President, Northern Region
Greater Lehigh Valley Chamber of Commerce
Carbon Chamber and Economic Development
Pocono Chamber of Commerce
Mobile: 610.751.4932
____________________________________________________________________________________
A Message to our Members:
"This is a tough time and we're tough people, but we're human. So share with your family, your friends and your co-workers if you're feeling low. There's a bright light at the end of this tunnel, I'm certain of that."
– Tony Iannelli, Chamber President & CEO
Click here for important updates from our Public Policy team!
___________________________________________________________________________________
MARCH 30, 2020 
Gov. Wolf and Sec. of Health Expand 'Stay at Home' Order to Carbon, Cumberland, Dauphin and Schuylkill Counties, Extend School Closures Indefinitely
As COVID-19 cases continue to grow and the state continues to seek relief to save lives and stop the spread of COVID-19, today Governor Tom Wolf and Secretary of Health Dr. Rachel Levine revised their "Stay at Home" orders to include Carbon, Cumberland, Dauphin and Schuylkill counties, bringing the state total to 26 counties under a stay-at-home order. This order takes effect at 8 p.m., Monday, March 30, 2020, and will continue until April 30. All stay-at-home orders are now extended through April 30. All Pennsylvania schools will remain closed until further notice. Non-life-sustaining business closures remain in effect.
The order now includes all of Pennsylvania.
____________________________________________________________________________________
Dear Chamber Members,
During this time of uncertainty, The Chamber's Public Policy team will provide you with the most current state and federal information that you can use right now for your business and your employees.  There are a number of proposals to implement funding solutions for business in both Harrisburg and Washington.  We thank our public officials for recognizing that business needs assistance now as you work to stay above water and be helpful to your employees.
We continue to be in daily communication with our legislative leaders and staff to monitor progress and will update you immediately on results from which you may be able to benefit.
Please contact us (contact information below links) with any questions you may have and we will be back to you asap.
Thank you,   Michelle
MARCH 31, 2020
In response to the Coronavirus, Congress has passed and President Trump has signed a $2.2 Trillion relief package with $350 million being targeted specifically to small businesses. The money is to be used to keep workers employed amid the pandemic and economic downturn. Known as the "Paycheck Protection Program," the initiative provides 100% federally guaranteed loans to small businesses who maintain their payroll during this emergency. Importantly, these loans may be forgiven if borrowers maintain their payrolls during the crisis or restore their payrolls afterward.
​The Greater Lehigh Valley Chamber of Commerce is here to work with you and answer questions you may have on the numerous programs and guidelines. If we can't answer it, we will find you the answer.
We know you are being inundated with emails and it becomes quite confusing for all of us. The Chamber's Public Policy team focused on sorting through to provide you with the most updated information in the most expedient manner and the most important links available at this time to you, our members.
The NEW Stimulus Bill —How Can It Help Your Business?
(Coronavirus Aid, Relief, and Economic Security (CARES) Act)
Congress has approved $350 billion in emergency loans for small businesses to help keep their workers employed. In fact, if small businesses maintain or later restore their payrolls, they may not have to repay some — or possibly any — of the loan.
Paycheck Protection Program Q&A for employers LINK from attachment
What Coronavirus Emergency Loans are Available?
Families First Coronavirus Response Act (FFCRA)
Questions and Answers
Paid Leave Requirements
Posting --U.S. Department of Labor's Wage and Hour Division (WHD) additional implementation guidance
Pennsylvania State Government Updates:
The Governor's office updated list of life-sustaining and non-life-sustaining businesses:  Link from attachment
Q&A from the Governor's office on determining life-sustaining businesses (updated Friday, 3/27): View file above.
LEHIGH VALLEY CHAMBER PUBLIC POLICY UPDATES
RESOURCES:
Small Business Fact Sheet on Families First Coronavirus Response Act- FAQs
PA Dept of Community and Economic Development Assistance
Coronavirus unemployment offerings for employees impacted
Public Policy Team Contact Information:
Michelle Young: michelley@lehighvalleychamber.org
Brittney Waylen: brittneyw@lehighvalleychamber.org
Matt Powell: mattp@lehighvalleychamber.org
COVID- 19 Know Your Symptoms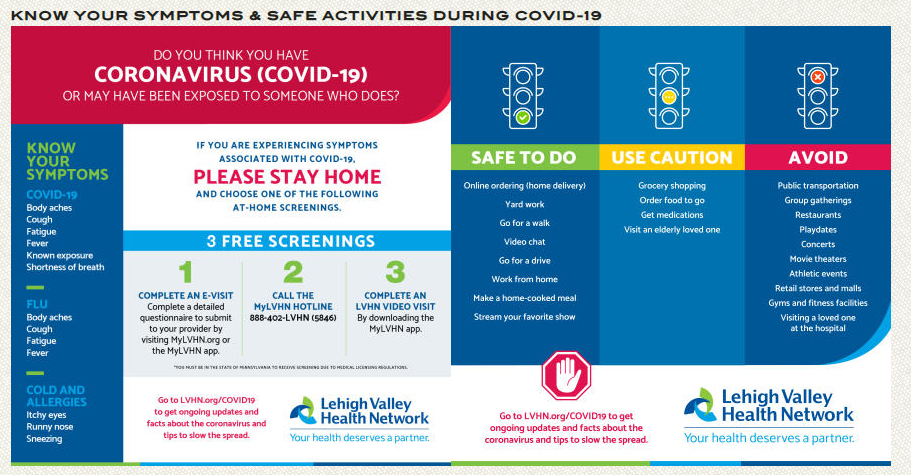 Stop the Spread, Stay Home, Stay Safe