The Importance of Trails for Health & Business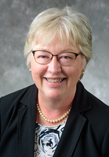 By Kathy Henderson, CCEDC Director of Economic Development
Spring has sprung! We certainly didn't have much of a winter this past year, hardly any snow.
Yet, the warmer temperatures and sunshine, the bright yellow daffodils, and seeing the first robin
of spring still feel good.

Now is the time to get out and experience our beautiful trails in Carbon County especially the
Delaware and Lehigh National Heritage Corridor (The D&L) that runs the entire length of the
county from north to south. Fresh air, beautiful scenery, and being able to decompress
after a hard day or long week are some perks of being on the trail.
The Benefits of Using Trails
But, there are more benefits to the trail than actually being on it. Businesses located along the
trail receive benefits as well. Jim Thorpe is the hub of activity for trail access with Weissport
Canal, the Lehighton spur, and the East Penn trailhead close behind. Businesses that are located
within easy distance of the D&L Trail benefit from trail users. Accommodations, restaurants,
breweries, and retailers all reap the rewards.
An accessible trail system is something that business owners seek to enhance the health and
well-being of their employees. Better health equals lower healthcare costs.
Studies also show that if your property is located within 5 – 10 minutes of water or a trailhead, it
will be more valuable than if it was further away.
The D&L Trail
The D&L Trail connects people to the rich industrial heritage of our county as it follows the
route of canal and rail that carried coal from the mines of Carbon County to Philadelphia to help
fuel the Industrial Revolution. That rich history is well maintained at the National Canal
Museum in Hugh Moore Park in Easton. While you're there, you can also enjoy a ride on the
mule-drawn Josiah White II canal boat.
Other Carbon County, PA Trails
There are other potential trails in the works that will branch off of the D&L to enable easy
biking and walking to our other towns. The Golden Trail in East Penn Twp., the Switchback Trail
at Mauch Chunk Lake Park, The Weatherly Trail Project, and one that has been in the pipeline
for years, the Panther Creek Heritage Trail just to name a few. Upon their completion, these
ancillary trails have the potential to bring revitalization to towns such as Lansford, Summit Hill,
Nesquehoning and Weatherly. We are already seeing those effects in Weissport and Lehighton.
So, dust off your bike, lace up your walking shoes, and as they say at the D&L, Get Your Tail on the Trail!