Cost of Supplies and Its Effect on Small Businesses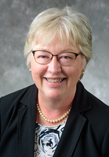 By Kathy Henderson, CCEDC Director of Economic Development
I overheard a conversation the other day that went something like this: If goods are manufactured in the United States, and they aren't sitting on a ship in the ocean, why is there a shortage?
Good question but consider this: goods that are manufactured in the U.S. most often rely on parts from other countries. So even though it says Made in U.S.A., doesn't always mean that 100% of it is manufactured here. Something as simple as rocker panels for an older Chevy truck, which our mechanic has on order for over a month now, are being held up who knows where.
Unfortunately, this is the world we currently live in.
On the other side of the coin, when companies do finally get the necessary materials needed to produce their products, the costs have increased sometimes 3 – 4 times what they were just over a year ago. Supply and demand strikes again.
We are all feeling the pinch but none more than our small businesses. It seems that more and more they are being forced to increase salaries just to entice employees to work. This has the trickle-down effect of their products and services costing more to the consumer. Tack on increased costs of materials and some businesses have had to shut down completely because they can't compete with the larger corporations who have more resources. Local restaurants have changed their hours, and some are now closed two days a week when they were open 24/7 before simply because of staffing shortages.
The stressor is that we can't see a light at the end of the tunnel. Where do we go from here? I don't believe any of us can answer that question because we've never been here before. We need to get people back to work, but how do we do that? I don't believe even the government knows the answer to that and I know that I don't have the answer as much as I wish I did.
The facts are simple…the country needs to move goods off the container ships that are anchored offshore, we need to be more lenient with some policies on trucking for now until we can get the goods from ship to shore and to the end users.
Hopefully prices will not remain this high when things start moving again, however I'm not hopeful that will happen. Once we get used to what prices are it's safe to say they will not return to pre-pandemic levels.
Christmas is fast approaching and some news outlets are recommending that we do our Christmas shopping early because of predictions the shelves may be empty. My advice is shop local, now. Not just for Christmas but every day. Support our businesses here in Carbon County, purchase gift cards, anything to help them stay afloat. There are lots of things you can find if you just get out to our businesses and actually shop local instead of online.