Shopping for an Electricity Provider Can Save You Money
By Carol Obando-Derstine, Regional Affairs Director, PPL Electric Utilities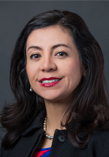 Christmas shopping, Black Friday, Small Business Saturday and Cyber Monday are probably all on your mind in November. But did you know there is a way to shop this month that won't cost you a cent and can actually save you money?
In Pennsylvania, residents can shop for their electricity provider – the company that sells you the electricity you use. PPL Electric Utilities, or your current electric utility, will still deliver electricity to you, send your bills and respond to any power outages that may occur. But shopping for an alternative electric supplier can save you money if you shop wisely and pay careful attention to contract terms.
For those residents who do not shop for electricity, PPL is required to purchase electricity for you and pass the cost on to you with no mark-up. The price you pay if you do not shop is called "the price to compare."
When shopping for electricity the best place to start is the Public Utility Commission's website, www.papowerswitch.com. On the site you will see all the offers available from suppliers serving your area. You can often find offers that are lower than our price to compare.
As you shop, always pay attention to whether the contract is a fixed price or a variable rate contract. Variable rate contracts can start out at one price per kilowatt hour and then can rise or fall based on the weather, the demand for electricity and market rates. A fixed price contract will ensure that you pay the same price per kilowatt hour each month for the length of the contract.
Also, look to see if there is a sign-up fee, cancellation fee or other monthly fees involved. All of these can significantly change the price of your contract.
Lastly, make sure to take note of when your contract will end and mark it on your calendar. The supplier will be responsible for notifying you before your contract expires. But your rate can change at the end of your contract so you will want to pay close attention to this date.
If you want to shop but are not comfortable doing so on the internet, you can always call the Pennsylvania Office of Consumer Advocate at 800-684-6560 to get started.
Another option is to call PPL at 1-800-DIAL-PPL to be enrolled in our "standard offer" program, which will put you on a fixed-rate plan with a provider offering a 7 percent discount from our current price to compare for a year. (The price to compare changes two times per year – December 1 and June 1.)
Whichever way you choose to shop, we hope you'll take a few spare minutes this holiday season to save some money on your electric bill.