Support Local – Online Specials (COVID-19)

Last update 4/3/20 @ 04:15 PM
This page is your official CCEDC Resource Page which will list specials and promotions that local businesses are offering during COVID-19 social distancing.
If you have an announcement, special or offer for the community please email it to info@carboncountychamber.org Please follow the following guide;
Business/Organization name:
Phone number:
Address:
Offer/Announcement: 
BANKS/FINANCIAL INSTITUTIONS
First Commonwealth Federal Credit Union | 610.821.2400
Carbon Plaza Mall, 1241 Blakeslee Blvd. East - Ste. 22 www.firstcomcu.org/covid19.html
To help ease any hardships that ours members may be facing as a result of the COVID-19 pandemic, First Commonwealth Federal Credit Union is offering financial assistance and connection to community resources to members that have been financially affected. We realize for many, this may be the first time they've been faced with this type of crisis and we're here to help you navigate through these unexpected events and are doing everything we can to offer assistance.
We've developed a number of Relief Programs to help members that may need one-time or ongoing assistance. Relief is available for members with loans with us who may need temporary relief or an alternate long-term solution, including payment deferrals on existing loans and special low interest loan programs. If you're experiencing financial hardship and need assistance, please reach out to us at 610.821.2400 ext. 6773 to discuss.
Please continue to check First Commonwealth's COVID-19 Member Resource page for up-to-date information about our operations, relief programs, financial wellness education, tools and resources.
As we follow CDC and government guidelines to limit the spread of COVID-19, our Financial Centers remain open for Drive-Up service, however you can conduct most transactions from the comfort and convenience of your home. **Effective 3.23.20: Drive-Up Service Only. Lobbies Closed.**
First Northern Bank & Trust | www.1stnorthernbank.com
All First Northern Bank & Trust branch lobbies will be closed 3/20/20 until further notice. Drive-up windows will remain open for all locations.
Mauch Chunk Trust Company |  877-325-2265
www.mauchchunktrust.com/COVID19
MCT Resource Page for COVID-19 including Customer Assistance Options
The Neffs National Bank | www.neffsnatl.com
Effective 4:00 on March 16, the bank lobby will be closed until further notice. Customers may schedule an appointment for CD/deposit accounts, loans, safe deposit boxes, etc. To schedule an appointment, please call 610-767-3875 during normal business hours.
We strongly recommend using our convenient services such as goDough® mobile banking app, our NetTeller® Online Banking platform, or our 24-Hour telephone banking service Bankline. We also encourage our customers to use our Drive-Thru for basic in-person transactions, goDough® for mobile deposits, our Night Drop depository, or our 24/7 accessible ATMS for deposits and cash withdrawals.
BUSINESS RESOURCES
Adams Outdoor  Small Business Booster
Adams Outdoor is committed to helping our community partners during these challenging times. We're offering all Chamber restaurants and essential service businesses an opportunity to let those who are out and about, know that you're open.   Be included on the massive Adams Outdoor digital billboard network with a minimum of 15 digital billboards, strategically placed on the highest traffic roadways in the Valley. We have reserved a spot on these premium locations for any participating businesses. Your "still open" message will run on the template pictured.   Details: A maximum of 5 businesses will rotate together on 1 digital billboard spot. Additional spots will be added as needed to accommodate demand. Each business will be seen on each digital billboard approximately every 5 minutes. This message is currently running in the market and we can start your campaign today.
We will run this campaign for a minimum of 4 weeks. What happens if we can re-open? We will change the template for restaurants to say NOW OPEN for dine in service- service template will remain the same.
Cost: $500 for 4 weeks (value: $5,430). Reach out to Tammy at tammyw@lehighvalleychamber.orgor 610-739-1775 or Jessica at jessicao@lehighvalleychamber.org or 610-573-4010 to participate. Please be prepared to provide your logo and payment of $500 to your Chamber or Adams contact.
ETA Insurance Group |  (570) 669-5050
75 W Catawissa St. 
Nesquehoning, 
Our physical location is temporarily closed and our staff are working from home. We are committed to serving the clients and community members who count on us and are still able to write new policies, make changes, report claims, and accept payments. Our entire team is available to you by phone, text messages, & emails during normal business hours. We ask for your patience and understanding as we navigate through this extraordinary time. Please do not hesitate to contact a member of our team if you have any questions or concerns. ;
Our entire team is available to you by phone, text messages, & emails during normal business hours.
Monday - Thursday, 8:30 a.m. - 5:00 p.m. and
Friday, 8:30 a.m. to 3:00 p.m.
Ph: (570) 669-5050 | info@ETAinsuranceGroup.com
Direct Dial Phone Directory
Joe Pilla - (570) 664-2555
Ed Titus - (570) 668-1030
Denise Wolfe - (570) 664-2534
Patrick Kane - (570) 573-0708
Renee Slakoper - (570) 309-6825
Wendy Shubeck - (570) 664-2531
Joann Chickilly - (570) 273-1159
Sharon Ford - (570) 620- 2031
Express Employment Services | 570-273-8777
613 Blakeslee Boulevard, Lehighton, PA 18235
At Express, the well-being of our associates, clients, and staff are our utmost concern. With this mind, and to continue to help you find the work you need, our office is operational , but we are only interviewing applicants by telephone. You can call our office to schedule.
If you are interested in any of the following, please contact our office at 570-424-1800 or 570-424-1800 or email us at kalimah.hardy@expresspros.com to discuss your qualifications and availability.
Our physical offices will re-open once Gov. Wolf lifts the ban.
https://www.facebook.com/expressproslehightonpa/
http://www.expresspros.com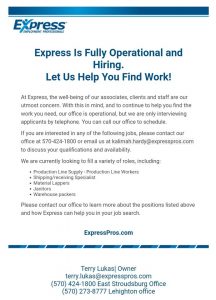 Kresge Services | 570) 325-2773
404 Center Street Jim Thorpe PA 18229
Offering Viral Decontamination Services. Alliance Environmental Group, a FW Webb company, is committed to providing the highest professional services with regard to emergency response for the control of pathogens and viral agents. Kresge Services has teamed with Alliance Environmental Group to offer pathogen decontamination.
S & O Computers, LLC | 570-645-2075
125 E White St, Summit Hill, PA 18250
Special Service : Remote repairs on PC's for every Residential Customer (normally only offered to Managed Services Customers)
Spotts Insurance Group | 570-645-2414
41 West Ludlow Street, Summit Hill, PA 18250
The office is staffed, however, we are not taking walk-ins. Please call.
BAKERIES/BAGELS
The Bagel Bunch |  610-377-2233
300 Mauch Chunk St. Lehighton PA 18235
Curbside service beginning 3/25 - CC only, no cash sales
https://us.orderspoon.com/thebagelbunchatjimthorpe
Blended Bakery | 610-730-1732
158 S 1st St. Lehighton PA 18235
Closed until further notice.
Pinstripe Bagels  | 570-732-4755 | Facebook
 1795 PA-903, Jim Thorpe, PA 18229
To Our Pinstripe Family,
We have made the extremely difficult decision to temporarily shut our doors to prevent the spread of COVID-19. We will keep you updated on a reopening date and look forward to serving you all in safer and healthier times. Thank you.
DELI/RESTAURANTS/BARS
3 Kids Market & Eatery | 570-732-4334
243 Center Ave. Jim Thorpe Pa 18229
Beginning 3/25 - Open for curbside pickup- find us on facebook! CC only, no cash sales.
Antonio's Pizza | 570-325-3679
43 Broadway, Jim Thorpe, PA 18229
TAKE-OUT and DELIVERY during normal hours. 10am – 10pm daily.
Ateira's on First | 610-844-3663
130 S First St Lehighton Pa 18235
Check out our specials on  squareup.com/store/ateiras  or www. Ateiras.com. Pickup or delivery.  Offerings will change often.
Barn Door Pizza at Country Junction | 610-379-8500
6565 Interchange Road, Lehighton, PA 18235
As of 3/23, Barn Door Pizza will be closed until further notice. We look forward to opening as soon as possible!
Beacon 443 Diner | 610-377-1782
35 E Blakeslee Blvd., Lehighton, PA 18235
Unfortunately due to our limited sales, we are no longer staying open for delivery or take out. As soon as we get the go ahead to re-open, we will be back and better then ever! Thank you to all of our customers, employees, and people who have been volunteering to help us out. We will most definitely be keeping up with our Facebook page keeping everyone updated.
The Bagel Bunch | 610-377-2233
300 Mauch Chunk Street, Jim Thorpe, PA 18229
We are open for Curbside service beginning 3/25 - CC only, no cash sales.
Order Online or call in 610-377-2233. Hours: Mon-Fri 5:30-2:30, Sat-Sun 7am-2pm.
https://us.orderspoon.com/thebagelbunchatjimthorpe
Beltzville Bar & Grill | 610-681-8181
7435 Pohopoco Drive, Kunkletown, PA 18058
We would like to Thank you all for all the support during this time.
Please know we are taking every precaution to keep all of you safe while preparing your food and delivering it to your car.
We will be offering curbside/ take out orders as long as we are able to do so.
Hours today Wednesday, 4/1/2020 3 PM - 7 PM
Call : 610-681-8181
Bert's Steakhouse & Restaurant | 610-826-9921
416 Delaware Ave, Palmerton, PA 18071
WE WILL STILL BE OPEN!! We are considered life sustaining and may remain open to TAKE-OUTS, CURBSIDE-PICKUPS and DELIVERIES ONLY!! If you're not comfortable coming into the restaurant to pick up your order, or even uncomfortable leaving your home for food, WE CAN HELP WITH THAT! We have been and will continue to be here to serve you as long as we're allowed! Thank you all for your continued support! STAY SAFE!
-Love always, your dedicated Bert's Staff
Big Creek Vineyard | 610-681-3959
41 Susquehanna St, Jim Thorpe, PA 18229 & 120 Keller Road Kunkletown, PA 18058
How we're handling our new carry-out process at Big Creek, which includes copious amounts of bleach. For those of you who are unable to leave home, remember that we do shipping and same-day delivery as well!
For more info on our COVID-19 procedures:
https://www.bigcreekvineyard.com/coronavirus
Blended Bakery | 610-730-1732
158 S 1st St. Lehighton PA 18235
Closed until further notice.
Blue Mountain Pub - Palmerton
CLOSED until further notice
The Boatyard | 610-379-9580
251 Canal Street Lehighton PA 18235
Full Menu available for take out only. Daily specials on our Facebook page. Cash only.
Bonnie & Clyde - CLOSED until further notice
Boulder View Tavern | 570-722-9696
123 Lake Harmony, Lake Harmony, PA
Take Out Menu link and hours on our home page: http://www.boulderviewtavern.com/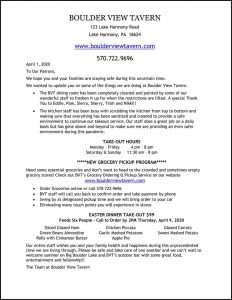 Boulevard Drive-In | 610-377-3420
59 Blakeslee Boulevard Drive E, Lehighton, PA 18235
Our breakfast, lunch, and dinner menu is available for take out or delivery. We won't have the salad bar available, but we can make a salad for you. Hours vary by day.
Broadway Grille and Pub  - Closed until further notice (3/23/20)
Bucky's Grill – CLOSED until further notice
Cabrera's Pizza | 570-645-5480
161 W. Ridge St. Lansford, PA 18232
https://www.facebook.com/pages/Cabreras-Pizzeria-Restaurant/121587171184709
Chantilly Goods & Weissport Washboard | 610-379-4767
200 Bridge Street, Weissport, PA 18235
Chantilly Goods will be closed due to COVID-19 until we hear word from Government Officials. The Weissport Washboard laundromat will continue to be open 7am -9pm. It is being sanitized multiple times a day. Practice social distance and only go when needed.
Cindy's Deli | 610-379-4747
828 Main Road Lehighton, PA 18235
$5 off your first online order at cindysdeli.com or text CINDY to 33733.  Curbside or Contact-Free Delivery available daily Monday-Saturday. Check out daily specials on Facebook or call our store!
Coal Miner's Bar & Grill | 570-805-4711
13 S. Centre Street, Lansford, PA 18232
Open for takeout, curbside pickup, and delivery orders, 11am to 8pm. We have a variety of take out soda and we can deliver 6 packs of beer. We thank you for your business!
Cousins II Cocktail Lounge | 570-386-2351
1249 Mahoning Drive W, Lehighton, PA 18235
Open Thursday, Friday & Saturday 3pm-8pm. We're going to be takeout only, with a limited menu.
Covered Bridge Inn | 610-826-5400
4300 Little Gap Road, Palmerton, PA 18071
Open Wednesday thru Friday 4-8 PM (takeout only) Saturday & Sunday 9-7 (takeout only). Offering breakfast Sat & Sun 9-12
Dom N Ali Steak & Seafood | 570-325-8110
1552 State Route 903, Jim Thorpe, PA 18229
Domnali will continue to offer services as allowed by law. At the moment Domnali will only offer To Go Orders and Pickups and Now Delivery! Food can be ordered 2pm till 8pm. Remember we have Bottled Beer To Go! Please call ahead to place food orders 570 325 8110. For Menu Go To www.domnali.com . Due to the COVID-19 virus Domnali will be temporarily offering home delivery for food orders. Approximate delivery area is 5 miles from DomNali. (Beer Delivery NOT AVAILABLE). Minimum Food Order For Delivery is $25.00. Delivery Fee is $3. Orders over $100 Free Delivery! Please call 570 325 8110 for information. All Delivery Orders Must Paid By Credit Card Over Phone At Time Of Ordering.
Gagliano's Italian Restaurant | 570-722-4686
Pine Point Plaza, Rt 903, Albrightsville
Offering no delivery fees during the Corona Crisis. Serving Albrightsville and Lake Harmony areas. Hours:10am til 8pm See their menu on Facebook!
In light of Carbon County getting its first confirmed case of COVID 19, we just want to update our community, our customers, our friends, what measures we have already instituted and will be instituting to ensure we are keeping you and ourselves at Gagliano's, safe during this tough time.
Read the full post on Facebook:
https://www.facebook.com/permalink.php?story_fbid=2786784474704127&id=184411438274790&__tn__=K-R
The Gorge Eatery | 610.875.6465
500 Bridge St. Weissport, PA 18235
Closed until further notice.
In The Mix Pub | 570-669-6649
106 E Catawissa St. Nesquehoning PA 18240
Closed until further notice.
Half Barrel | (610) 703-9340
Delivering in Carbon County.  Oatmeal, Pilsner, I.P.A. 3.75 ea delivered.
Insurrection Distillery | 610-379-4775
201 N. Main Lane Lehighton, PA 18235
Hours for the week of March 30, 2020: Monday - Thursday 11-4. Friday 11-8. Saturday 11-5 and Sunday 11-4. Liquor Bottle Sales.
During these hours we will be making and dispensing sanitizer. WE DO NOT SELL Sanitizer! First responders and health care workers we will supply. Over 200 gallons dispensed already.
Half Barrel Brewing offering pick up and curbside service at Insurrection Distillery
Jenny's Sweets & More | 570-249-0910
114 S. 1st Street Lehighton PA
Order online for delivery or pickup https://www.jennyssweetsandmore.com/
Joey B's Bar & Restaurant | 610-826-6620
638 Delaware Ave, Palmerton, PA 18071
Good Morning Quarantiners! We have made it to another week. When we are all back to our normal schedules we may even miss this time!
***Our hours this week have changed--we will be serving daily from 4-8 P.M. & will begin taking orders at 3:30 P.M.***
In an effort to minimize exposure, we ask that all service be curbside and request that no one enter the building.
Please stay tuned tomorrow for the Family Dinner Features that we will feature Wednesday-Sunday!
If you reach our voicemail when you call during our business hours it simply means we are on the phone with another customer-please try calling back!
Today's Phone Numbers for Curbside:
1. 610-826-6620
2. 610-393-8832
3. 610-390-6573
Jokers Are Wild Game Cafe | 610-714-4263
125 N 1st Street, Lehighton, PA 18235
Ok Jokers. Few updates.
#1) Just received confirmation from the State Department of Health that we can still remain open for food and drink orders despite Carbon and Schuylkill being added to the stay at home order.
#2) We thank, so much, all of you that have been supporting us!!!
#3) We have recieved multiple questions about how we are sanitizing board games for rental and upon return. We have been using medical grade material to unsure the safety of the public and employees. (See picture below)
God bless everyone and don't forget first responders and medical personnel eat for free!!
La Napoli III | 570-427-9876
208 Carbon Street, Weatherly, PA 18255
PICK UP AND DELIVERY OPTIONS WILL STILL BE AVAILABLE. We will be bringing pick up orders to your vehicle outside. Hours: Mon-Sat 10am-10pm, Sun 11am-10pm.
Louie's Prime, Lake Harmony | (570) 722-3990
244 Lake Harmony Rd., Lake Harmony, PA18624
Oopen on Saturdays for Take Out with a Limited Menu. Menu will be available by Thursday. Orders should be placed by 12pm on Saturday, with pick up between 3pm - 7pm. To place an order, please email cyndipantages@gmail.com or call 570-956-0756.   Easter Dinner Take Out - Easter Package and Add ons must be ordered by 4pm on Thursday, April 9th.
Dinner will be available for pick up on Easter Sunday, April 12th from 1pm - 3pm. Dinner feeds 4-6 people - $85 *no substitutions*
Easter Dinner consists of: Whole Turkey (with turkey gravy), Sliced Honey Glazed Smoked Ham, Yukon Whipped Potatoes, Sweet Mashed Potatoes, Braised Red Cabbage, Bread Stuffing, Mac & Cheese (gruyere & cheddar)
Rice Pudding, Rolls and Butter;  Add on's: Priced Accordingly - Filet Mignon: 12oz $48 8oz $38 6oz $30, Creekstone 14 oz Prime New York Strip $40, 14 oz Dry Aged Delmonico $42, Colossal Crab Meat Cocktail w/Citrus Butter $16
Crab Cocktail with cocktail sauce & lemon $15, Shrimp Cocktail with cocktail sauce & lemon $17, Chocolate Tower Cake $12, Carrot Tower Cake $12, Peanut Butter Thunder $10 *No substitutions* To place an order please email: cyndipantages@gmail.com or call 570-956-0756
Lorenzos Pizza Kitchen | 484-464-4889
489 N 1st Street Lehighton PA 18235
Offering takeout, curbside pick up, free delivery.  Also be offering family family styled meals that serves 4-5 people. We will offer lasagna, baked ziti and chicken parmigiana. It will come with salad and our homemade bread which will cost $20.95. We will also be offering pizza kits. You will get our pizza dough, cheese and sauce for $9.00.
Macaluso's Restaurant and Cocktail Bar and Lantern Lounge | 570-669-9433
1257 E Catawissa Street, Nesquehoning, PA 18240
Just a reminder we are open for curbside or take out. Even with the stay at home act, we are an essential business. We are open Tues-Sun, 4 pm - 8 pm. Place orders after 3 pm. Delivery to Jim Thorpe, Nesquehoning, Panther Valley, and Lake Hauto Thursday-Saturday. Thank you for your business! Call us: (570) 669-9433.
Take out menu: http://macalusosrestaurant.com/wp-content/uploads/2020/03/TakeOutMenu-scaled.jpg
Marco's Pizza | (570) 645-7627
10 W. Ridge St. Lansford, PA 18232
https://www.facebook.com/Marcos-Pizza-271464846259788/
Marion Hose Bar – Closed until further notice.
Marios Pizza Lehighton/Weissport | 610-377-7800
200 White St. Weissport, PA 18235
Open and offering delivery. Drive thru window for a convenient pick up. Delivery & Drive Thru window are available! Call in your orders ahead 610-377-7800. Hours: Mon-Thurs 10:30am-9:30pm, Fri-Sat 10:30am-10pm, Sun 10:30am-9pm.
Molly Maguire's Pub & Steakhouse | 570-325-4563
5 Hazard Square Jim Thorpe PA 18229
SORRY BUT The Molly Maguires Pub and Steakhouse will be CLOSED Until further notice to protect our family, guests & staffs health and safety. We will re-evaluate on a weekly basis. Appreciate all the support.
Mark & Darren Behan
Muggles Mug Coffee Shop | MugglesmugJT@gmail.com 
79 Broadway Jim Thorpe PA 18229
Open 7am-2pm for take out only. Coffee, pastries, quiche, cookies, gluten free and vegan options.
Myst Hibachi/Sushi/Gastropub | 570-213- 7011
34 Susquehanna Street, Jim Thorpe, PA 18229
Closed until further notice.
Notch 8 Craft House | 570-732-4599
107 Broadway, Jim Thorpe, PA 18229
We are offering our full menu for takeout. We will keep you posted if we run out of anything ! Hours vary by day.
Nick's Lake House  | 570-722-2500 | www.nickslakehouse.com
20 South Lake Drive, Lake Harmony, PA 18624
We offer take out and Delivery as well as 6 packs to go. We will reopen when allowed by law.
One Ten Tavern | 610-826-3333
Closed until further notice.
Palmerton Pizza & Restaurant | 610-826-3711
695 Delaware Ave, Palmerton, PA 18071
Take out only - We would be more than happy to bring your food to your car as well, just let us know when you place your order. We continue to clean and sanitize to keep our customers safe… Hours: Sun-Wed 11am-9pm, Thurs-Sat 11am-10pm.
Papa Al's Italian Restaurant & Pizzeria | 610-824-7163
315 Lehigh Ave, Palmerton, PA 18071
If the school closures have you concerned about your child not being able to eat lunch; please message us. We will do what we can to help and supply a meal. If you know anyone elderly that might be struggling during this time too, please call us and we will work something out. The restaurant will be open for take out, curbside pick up, and delivery. Don't forget our online ordering for your convenience. No need to get out of your vehicle-we will do it all. We are working diligently here at Papa Al's to keep our patrons feeling comfortable and safe during this time. We are sanitizing all tables, chairs, menus (after every use), door knobs, bathrooms, countertops, etc thoroughly. Hours: Sun 11am-9pm, Mon-Thurs 11am-10pm, Fri 11am-11pm, Sat 11am-10pm.
Pappy's Schoolhouse Restaurant & Tavern | 610-377-4444
Closed until further notice.
PJ Whelihan's at Platz's | 610-377-1819
101 North Harrity Road, Lehighton, PA 18235
Closed until further notice.
Purple Green Juice Bar | 570-732-4770
105 Broadway, Jim Thorpe PA 18229
Effective now, we will be offering takeout only. Feel free to call here for pickup! Just park outside we'll be happy to walk your order to you! We also are offering delivering within a 3 mile radius! $25 order minimum and $5 delivery fee. Hours 11am-4pm Thurs-Mon.
Penn's Peak & Roadies Restaurant & Bar |  610-826-9100
325 Maury Road, Jim Thorpe, PA 18229
Penn's Peak and Roadies Restaurant & Bar will be closed, at a minimum, until the week of April 30th. We are working hard to reschedule events and keep our customers as updated as possible. We will release any rescheduled dates as soon as we have them available. While our box office will be closed for 2 weeks, you may still purchase tickets by going to Ticketmaster.com. For the most up-to-date information, please keep an eye on our Facebook page and our website. Additionally, we will be sending emails to our distribution list. If you are not on our email list, you may be added by texting PENNSPEAK to 22828.
Piggy's Restaurant of Lake Harmony  | 570-722-8493 | www.PiggysRestaurant.com
16 North Lake Drive, Lake Harmony, PA 18624
It is with a heavy heart that we have decided to temporarily shut our doors due to COVID-19. We hope all of our patrons remain safe & healthy during these unprecedented times. We will reopen and resume normal business hours as soon as we can. - The Crew at Piggy's
Pizza Como USA | 570-386-5965
1241 E Blakeslee Blvd. Lehighton PA 18235 (Carbon Plaza Mall)
Pickup and delivery service 10am-8pm daily. Nino Special - 2 slices and a medium soda for $5.00. Online menu: www.pizzacomousa.wixsite.com/pizza or find us on facebook.
Pocono Pizza & Eatery | 570-215-4877
26-1 State Route 903, Albrightsville, PA 18210
To all our valued customers. We will be opening back up again on Monday, March 30th with a no contact operation. We will solely be doing curb-side and delivery only!!! We will be taking every precaution necessary to keep everyone safe!!! With this being said...we are avoiding any cash transactions and will be accepting credit cards through the phone only!!! Our menu will change to adapt to the COVID-19 Pandemic. We will be offering family style platters and keep our pizza specials available on Tuesday's-Saturday's. In addition...we will be showing our gratitude and appreciation to our nurses, doctors, medical staff, firefighters and police officers in our community by giving them "free of charge" a large cheese pizza to share with their loved ones. This offer will be available starting Monday, March 30th until further notice with a show of ID. We will be dedicating our Monday's to these workers solely!!! We will be open for business Tuesday's-Saturday's for everyone else. Thank you in advance for your cooperation. We look forward to serving our community once again!!! Please stay safe and healthy!!! We can get through this if we practice social distancing!!!
Radical Wine Company | 610-365-7969
511 Mahoning Dr E. Lehighton, Pa 18235
To-Go Slushie and Bottle Sales available, our wine is also available at Giant and Fast Fill Gas stations. For the full list of places check out our website radicalwineco.com
The Riverwalck Saloon  | 610-852-2323
101 Centre St, Parryville, PA 18244
Take Out for Food & Beer Only: Daily 4pm-10pm
Sapore Restaurant | 610-377-5666
99 E Bridge Street, Lehighton, PA 18235
We're still open for your favorite appetizers, entrees, and pizza. Full menu available for pickup and delivery within the Lehighton area. Dining room closed.
Serina's Bakery | (570) 861-7173
22 W. Ridge St. Lansford, PA 18232
Closed until further notice.
https://www.facebook.com/serinasbakerycafe2016/
Shenanigans of Lake Harmony | 570-722-1100
286 Lake Harmony Road, Lake Harmony, PA 18624
Closed for Dine In Services until further notice. We are offering takeout & delivery. Takeout Beer Available. Hours: Fri 4-10pm, Sat 12-10pm, Sun 12-7pm.
Slopeside Pub & Grill at Blue Mountain Resort | 610.824.1557
1660 Blue Mountain Drive Palmerton PA 18071
Slopeside is offering Curbside Pickup with a special menu Slopeside_Curbside_2020Menu.  Orders over $50 will receive 10% off orders. Call 610.824.1557 to order ahead. When your order is ready, we will deliver it to your car.
Stone Row Pub & Eatery | (570) 732-0465
Subway Palmerton | 610-824-5888
625 Delaware Ave, Palmerton, PA 18071
Open Daily 8am-8pm. Palmerton subway will now offer curbside service! You can either call in or download or subway app and order from there. If calling in we can take payment over the phone or cash when you arrive. Just give us a call when you arrive for your order and we will bring it out to you.
Subway Lehighton Walmart | 570-386-3131
1731 Blakeslee Blvd Dr. E Lehighton PA 18235
Open Daily 8 am - 8 pm for take out and curb side pickup.
Subway Jim Thorpe | 570-325-8081
5 Lehigh Ave. Jim Thorpe Pa 18229
Open Daily 8am-8pm for takeout
Tommy's Subs | (570) 325-4030
32 W 4th St. Jim Thorpe, PA 18229
HI EVERYONE...!! Starting Monday 4/6/20 This will be our hours until further notice. I will let everyone know if anything changes. Thank You!!
Sun 11-7
Mon 11-7
Tues 11-7
Weds 11-7
Thurs 11-7
Fri 8-8
Sat 8-8
We appreciate everyone's business!
THANK YOU TO ALL OF OUR CUSTOMERS!!!
Daily specials on our facebook page: https://www.facebook.com/tommysubsjimthorpe/
Two Kings Pizza | 570-668-5454
272 Claremont Ave, Tamaqua, PA 18252
Due to the concern of the spread of this virus and to practice social distancing, we will be offering delivery, and pickup at our window around the rear of the restaurant as well with the ability to wait in our parking lot while food is prepared.
Uncommon Grounds at the Mill | 484-632-7452
500 Bridge Street. Weissport, PA 18235
In light of current conditions and the latest announcement from the governor, we have made the difficult decision to temporarily shut down cafe operations effective immediately.
We are still operating on-line at www.uncommongroundsmobilecafe.com
and shipping roasted coffee for you to enjoy at home.
We thank you all for your patronage and support and assure you that this is temporary. We WILL be back up and running as soon as possible and will keep you posted.
Stay well everyone and we'll see you soon!
Union Publik House | (570) 325-8100
212 Center Street Jim Thorpe PA 18229
Open for pick-up only, 4-8pm. Delivery starts Friday. Daily specials: www.unionpublickhouse.com/covid19
Verona Pizza House
Monday-Friday 12-1 we will be giving a free slice to each Lehighton school district student until school is back. We are only giving 50 slices away a day. First come first serve! Hard times & we are here to help!
Weatherly Country Inn Restaurant & Catering | 570-427-8550
1634 S Lehigh Gorge Drive Weatherly PA 18255
Daily specials, takeout or delivery - 4-8PM.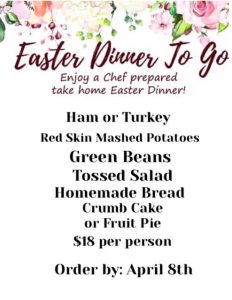 West End Saloon | 610-900-4330
1121 Mauch Chunk Road Palmerton,  PA 18071
We are now OPEN from 11am to 8pm Tuesday through Saturday and 12pm through 8pm on Sunday.   We are offering Takeout Orders and Six Packs to go to be picked up Curbside.   Filling growlers with beer on tap for takeout. Cash and credit cards accepted.   We are also offer delivery to Palmerton and Bowmanstown.  Minimum order for delivery is $25. Check our facebook page for daily updates!
EDUCATION
Reading Escapades & Math Explorers | 610-826-READ (7323)
Offering 50% off and daily rates for online tutoring as well as 75% off all downloadable activity packets. www.read2day.com
GROCERY
GIANT | 570-386-4146
1241 Blakeslee Blvd, Lehighton, PA 18235
Hours: 6am-10pm
All GIANT stores will open to service only customers who are age 60 and over first from 6:00 a.m - 7:00 a.m daily. Due to overwhelming demand, we are currently experiencing shortages and out of stocks on many disinfecting and cleaning products. We apologize for the inconvenience.
Walmart Supercenter | 570-386-3356
1731 Blakeslee Blvd Dr E, Lehighton, PA 18235
Hours: 7am-8:30pm
Senior shopping event: Each Tuesday, those age 60 and older can shop the store and Pharmacy one hour before opening. Mar 24–Apr 28.
Mallard Market | 610-377-5090
161 South 2nd Street, Lehighton, PA 18235
Hours: 7am-9pm
ATTENTION:
Starting Thursday, April 2, Mallard Market will reserve the first hour of business for senior citizens or those at high risk.
**7 AM - 8 AM will be for customers who are seniors or anybody with a higher risk of infection.
Mallard Market is still open with full business hours, from 7AM-9PM daily.
Jim Thorpe Market | 570-325-5320
1 River Street, Jim Thorpe, PA 18229
Hours: 6am-9pm
6-7 am will be reserved for our senior customers to shop.
Country Harvest Family Market | 610-824-3663
572 Delaware Ave, Palmerton, PA 18071
Country Harvest Family Market is reserving the first hour of operations 8-9am to our customers ages 60 and older, as well as who are at increased health risk until further notice.
Another option we are offering is FREE home delivery. Please contact Sheri Anthony by calling or texting at 610-737-0469 to place your order.
In addition, we will also be limiting the number of customers shopping to approximately 25 customers at a time. This is an effort to try and provide a safer and more enjoyable shopping experience for all customers.
With the recent declaration from Governor Tom Wolfe, Country Harvest Family Markets
NEW STORE HOURS will be 8AM-6PM:
- 8AM to 9AM is designated for our senior citizens and those whose health is compromised
- DELI will be open from 8AM to 5PM
Boyer's Food Market | 570-645-9214
500 W Bertsch Street, Lansford, PA 18232
Attention Valued Customers: We are revising our operating hours until further notice, beginning Tomorrow 3/24/20.
Store Hours will be 7AM to 8PM in ALL Locations.
We WILL still have our PREFERRED SENIOR CITIZEN/HIGH RISK SHOPPING HOURS of 7AM to 9AM each day.
Thank you from the entire Boyer's Food Markets staff and team!!!
Redner's Warehouse Markets | 570-669-7032
184 Market Street, Nesquehoning, PA 18240
Open 6am -9pm - To our Valued Guests, Redner's Markets is asking that the first hour and a half of daily operation (6 am – 7:30 am) be reserved exclusively for those that are at the highest risk for contracting Covid-19. This includes those that are elderly (60+), immune-compromised, considered to high health risk and pregnant. While we will not be asking for any personal identification or proof we will ask that other guests and communities respect this decision and be courteous to this request by allowing our most vulnerable to shop our stores when first opened, stocked and sanitized.
Additionally, we are asking guests to refrain from bringing re-usable (eco) bags into stores for use. These bags, while durable for multi-uses can be carriers for the virus and could cause further spread. Our cashiers will be automatically issuing single use, plastic bags until further notice. We are taking these steps in response to the overwhelming requests shared by our guests who are thinking of this vulnerable portion of our population and suggested this approach. We appreciate the patience that all of our guests have shown as we work to create a rewarding shopping experience during this unprecedented time.
ALDI | 855-955-2534
876 Blakeslee Blvd Dr E, Lehighton, PA 18235
Hours: 9am-8pm
Country Harmony Natural Foods | 570-386-3576
1245 Blakeslee Blvd Dr E, Lehighton, PA 18235
GYMS & FITNESS CENTERS
Dedicated Fitness | (610) 390-8321
Find LIVE workouts and advice on Facebook - www.facebook.com/dedicatedfitness  www.dedicatedfit.com
Native Yoga | (570) 778-6229
1738 Blakeslee Blvd. Drive West Lehighton PA 18235
https://www.facebook.com/nativeyogaPA
The Pyramid | (610) 379-4630
200 Ochre Street Lehighton PA 18235
Closed until further notice.
The ZOO Healthclub - Lehighton | (570) 818-4440
Closed until further notice
Spillaines Fitness | (610) 900-4348
260 Delaware Ave Palmerton PA 18071
Online Tips & More on Facebook: https://www.facebook.com/spillanesFIT/
HEALTH & WELLNESS
Dr. Lisa Bleicher, Family Chiropractic and Life Wellness Coaching | 570-325-2748 office 570-242-2466 cell
716 North Street, Jim Thorpe, PA 18229
Doctor Lisa B. is here to attend to your health care needs.  50% off Initial Chiropractic Office Visit.  Free 15-20 minute Life Wellness Coaching call
INDUSTRIAL SUPPLIES & SERVICES
LANDSCAPING/HOME REPAIR
903 Landscape Supply Inc. | 570-325-2903
1939 State Rte 903 Jim Thorpe PA 18229
We are encouraging telephone orders for delivery of bulk materials or equipment rentals for your outdoor projects.  Mention Carbon Chamber for a $5 delivery discount through April 15th. www.903inc.com
Carbon Builders Association - Home Emergency Services/Repairs | 610-379-1099
490 Ore Street, Bowmanstown, PA  18030
carbonbuilders.com
Should someone have plumbing, heating, AC, electrical, roof, door, window problems etc. and need services in a timely manner.We   will refer to our members who are PA registered and insured. This is the time, the buyer needs to be aware of door to door solicitation.
PHOTOGRAPHY/CREATIVE/THE ARTS
Carbon County Music and More | 610-377-9077
115 S. 2nd St. Lehighton PA  18235
We will make deliveries in the Lehighton borough of Guitar Strings/Reeds/Other accessories free of charge.  Orders have to be paid with credit card over the telephone for delivery.  Can ship if outside Lehighton for a small fee.
NEWS 13 | (610) 826-4060 or (610) 377-4060
brcnews@brctv13.com
News 13 wants to see how everyone is staying positive during this uncertain time with the Coronavirus pandemic. We'd love to see pictures of your pets, kids, adventures out on the trails, or how you're working from home. We may even show them on air!
Or if you'd like to send an inspirational message to our first responders, healthcare workers, truck drivers, law enforcement, teachers or anyone else you'd like to thank for all they're doing during this time, we'd love to share them as well!  Head over to our website- brctv13.com and send us an email
No. 9 Mine & Museum | (570) 645-7074
9 W. Dock St. Lansford, Pa
The No. 9 Coal Mine and Museum will not be opening for business in April as planned due to the coronavirus threat. We will remain closed until further notice. Follow our Facebook page or website for further updates as to when we will be able to open for visitors and tours. Call our office at 570-645-7074 if you have any questions. Please leave a message and we will return your call as soon as we can. Thank you and please stay safe and healthy!
Times News | 610-377-2051 Op2
594 Blakeslee Blvd Dr West Lehighton, PA 18235
Home delivery of the Times News - Call the circulation department for the best pricing for your needs. www.tnonline.com
RETAIL
Conjured Soap Boutique | 570-732-0340
101 Broadway, Jim Thorpe, PA 18229
Bar soap is better!!
How to order for Curbside pick up:
1. Go to conjuredshop.com
2. Shop for soap
3. There will be a note option while selecting products Type in pickup time (see below)
4. Before payment enter coupon code WYH for 20% off
5. Select pickup
6. Continue with online payment (not touching cash right now)
6. Pull in at allotted time for pick up...I'll be waiting curbside 🙂 Shop will not be open for browsing.
7. If properly noted in order, no need to email me.
8. Please share
Pick up times:
Thursday 5pm-7pm
Sat 9am- 11am
Mon 5pm-7pm
Offering pick up service listed on our fb page. 20% off soap. Order online, pay online, pick up curbside. Details on site conjuredshop.com
Porvaznik's Flowers and Gifts | (570) 645-2125
42 W. Ridge St. Lansford, PA 18232
https://www.facebook.com/PorvazniksFlowers/
TRAVEL
CruiseOne | 610-826-4777 or 866-836-3777
418 Princeton Avenue, Palmerton, PA  18071
Sailings of cruise ships have been suspended at this time until the end of April for most.  Unfortunately we don't do curb side or take out, but hope that you will consider cruising or traveling in general to the islands, Europe, within the US in the near future.  We are  open for business and wish to hear the phone ring wanting to plan your vacations starting this fall or for 2021.  The cruise lines and tour operators are currently having some special pricing.  Use a local travel agent and not the internet as all reports are that the internet agencies cannot handle the current situation in a timely fashion.  Please check out my website www.cruiseone.com/mfederanich for updates on incentives offered.  We welcome your continued and new business.