The Carbon Chamber & Economic Development Corp. and the Greater Lehigh Valley Chambers' Main Street Foundation in partnership with Frontline Graphix and Colossal Radio are producing a limited number of CARBON COUNTY STRONG t-shirts to help support our community at this time.
TOGETHER WE ARE STRONG!
Get your Carbon County Strong T-Shirt today!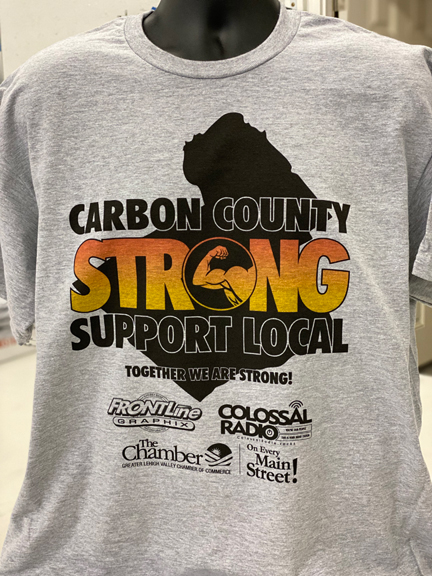 Cost: Carbon County Strong T-Shirts are $20 with proceeds supporting local stimulus efforts at this time.
Sizes: T-SHIRT Sizes are Small, Medium, Large, XL, XXL, and XXXL
Pickup: Upon purchase, you will be notified of pick up locations (Local to Lehighton) 
For up to date information on Carbon County Strong and Support Local log on and listen to Colossal Radio at www.colossalradio.rocks
Corporate Sponsors & Partners