It's the Most Wonderful Time of the Year...Fall Foliage in Carbon County!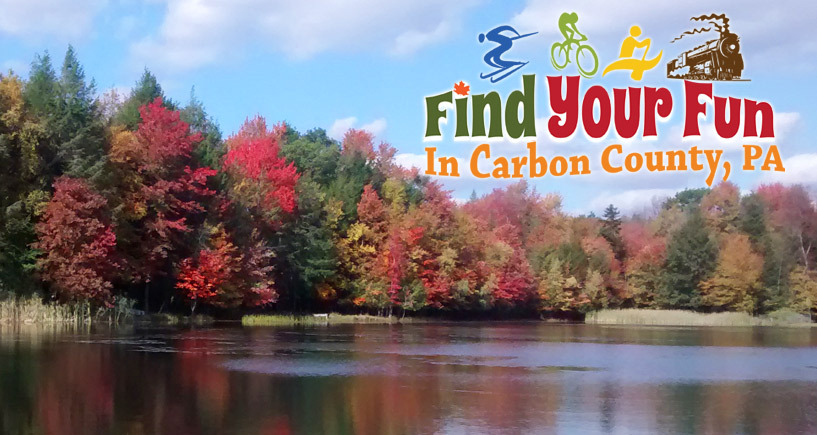 Carbon County is known for its unique diversity...small towns rich in history and culture, rolling farmland, beautiful mountains with majestic views, sparkling lakes with sandy beaches, flowing rivers, hiking and biking trails with scenic views, cozy bed & breakfasts, exciting resorts, charming shoppes, fantastic restaurants, family-friendly events and so much more!

Whether you enjoy going to events, bike riding, hiking, camping, kayaking, skirmish, hunting, shopping, sight-seeing or walking and breathing in the fresh mountain air while taking in the gorgeous colors of the fall foliage on the mountain, we have something FUN here for EVERYONE!

Connect With Us for More Carbon County, PA Fun This Fall!


---
Carbon County Hotel Tax Grant


-DEADLINE FOR SUBMISSION IS DECEMBER 30, 2017- CLICK HERE TO DOWNLOAD APPLICATION

Next Deadlines for Submission are February 28th & September 30th.

Room Tax Allocation Committee (RTAC)
As Authorized by: The Office of the Carbon County Commissioners
The Carbon County Commissioners have delegated to the RTAC certain responsibilities concerning the solicitation, evaluation and recommendation of tourism-related projects to be funded in part by proceeds from the Hotel Room Tax imposed throughout the County.

This Committee has developed and submitted to the Office of the County of Commissioners a protocol that include: general guidelines, guidelines, application criteria and an evaluation procedure.


General Guidelines
1. Twice annually, the RTAC will provide releases to the media and place advertisements informing eligible non-profit organizations in Carbon County of the availability of grants for tourism-related projects (that primarily bring tourists into Carbon County and encourage overnight stays) and soliciting their inquiries.
2. The RTAC will provide an application to interested organizations together with a timetable of deadlines for submission.


3. Following each deadline, the RTAC will convene to evaluate all applications that have been received and will record its recommendations for funding.


4.The RTAC will send the report to the Pocono Mountains Visitors Bureau, Inc. (PMVB) for final approval per ACT 18.

5. Invoices from vendors for marketing expenditures will be sent directly to PMVB for payment up to the amount approved by the RTAC.

6. Funding recipients will be required to submit a summary of all expenditures and pertinent project information to the RTAC within 12 months of the conclusion of the funded project.

7. PMVB Branding guidelines will be provided. Branding materials should be added to print/digital advertising including, but not limited to, websites, billboards and brochures. Any questions should be directed to Brian Bossuyt, Director of Marketing (PMVB) bbossuyt@poconos.org 570-421-5791 x 3120.

8. Upon approval of funding, marketing invoices should be sent to Staci Barkalow, CFO (PMVB) staci@poconos.org for payment.

Please be sure to indicate the organizations name along with your contact information on each marketing invoice.


DEADLINE FOR SUBMISSION IS DECEMBER 30, 2017.

CLICK HERE TO DOWNLOAD APPLICATION